We've made a significant change to members' news handling on pdfa.org, and we believe members will appreciate the results!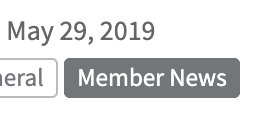 Members' News posts now appear by default alongside all other posts on the main pdfa.org/news landing page.
The red "featured articles" block at the top of the page will remain populated with three editorially-selected posts (articles submitted by members, or PDF Association news).
Whether you want to post a product announcement or an article expressing informative ideas, members of the PDF Association are welcome to submit their content anytime! 3rd party submissions will also be considered so long as they are clearly within scope of the PDF Association and its members' interests.
We believe these changes will:
Improve exposure for members' news
Enhance the value of the site to visitors
Cement pdfa.org/news as the go-to place for news about PDF technology
Submit your informative article or (members only) company or product news, or other content of relevance to PDF technology developers and publishers using this form.
NOTE: The timing of individual posts is editorially-managed. Specific timing is available, but must be requested in advance. In general, the editors will limit members' news (commercial) posts to no more than 1 per week.