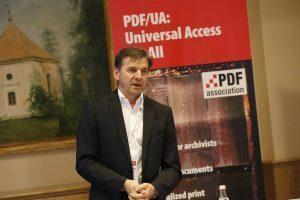 PDF Association: At the PDF Days Europe, you will be hosting a presentation titled "Text and fonts in PDF" – what's that about?
Dietrich von Seggern: While font formats have become more modern and overal fonts have become higher quality, problems with fonts and text are still a sizeable chunk of what goes wrong with PDF documents. When looking at PDF 2.0 not much has changed in this area. This session gives an overview about how fonts are used in PDF and in which way this relates to frequent font problems in PDF or PDF/A. As a tool Acrobat Preflight's PDF Browser will be explained and in which way it can be used to track down text and font issues.
PDF Association: Who is your presentation aimed at?
Dietrich von Seggern: This session is going to be very technical and I plan to deliver insights about how fonts are encoded into the PDF structure. This might be interesting for PDF users that have run into font issues or for PDF developers that do not have a lot of experience with this matter.
PDF Association: What will the people who attend your presentation be able to take away from it?
Dietrich von Seggern: It will be background information about how fonts and PDF interplay with each other in order to display text on screen or paper. This knowledge might be interesting for any professional PDF user that once in a while has to deal with problematic PDF files or with PDF/A which applies certain requirements for fonts. It will be easier after this session to understand font issues reported by a PDF/A validator.
Check out the detailed programme:
https://pdfa.org/pdf-days-europe-2018-schedule-of-sessions/
Direct link for registration:
https://en.xing-events.com/pdf-days-europe-2018.html