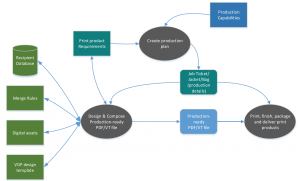 In 2010 InfoTrends' End-User Workflow Survey asked this question:
"Please select the top two optimized print output formats used for variable data job production".
The results clearly showed "Optimized PDF" at the top of the list. In the context of this survey "optimized PDF" simply means any PDF file that was specifically created for Variable Data Printing (VDP).
The primary goals of the PDF/VT Application Notes include:
Showing the benefits of using PDF/VT to deliver variable data print streams
Assisting developers in making the highest quality and most efficient PDF/VT files
Demonstrating the various ways in which PDF/VT can be used in different workflows
The document was developed by the PDF/VT Competence Center of the PDF Association, in close cooperation with, and at the request of ISO TC 130 WG 2 TF 3 (PDF/VT), and with the assistance of NPES.
PDF/VT Application Notes supplements ISO 16612-2:2010 – "Graphic technology — Variable data exchange Part 2: Using PDF/X-4 and PDF/X-5 (PDF/ VT-1 and PDF/VT-2)". It is assumed that a reader of this application note is familiar with the PDF/VT standard, as well as the PDF and PDF/X data formats.