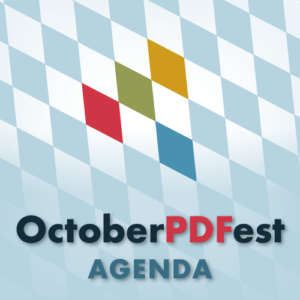 The PDF Association is assembling dozens of the world's leading experts on PDF technology for a free educational webinar series celebrating the diversity of PDF technology capabilities and solutions.
This October, join us as we discuss the latest standards, best practices, innovations and ideas about leveraging powerful and ubiquitous PDF technology to solve business problems and control costs.
Although OctoberPDFest ONLINE presentations are informational and educational, presenters may discuss their solutions following the educational portion of their presentation.
Check out the agenda and mark your calendars! Registration opens August 24. Attendance is limited, so register early.