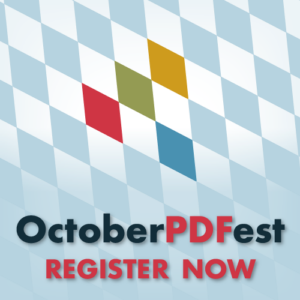 Starting October 5, the PDF Association's free webinar series celebrates the diversity of PDF technology capabilities and solutions with a wide range of educational presentations.
From the latest in PDF standards development to insights on accessibility, conversion, 3D, digital signatures, security considerations, visions of the future and many other subjects, OctoberPDFest sessions are offered by experts in their fields and have been reviewed by the Program Committee.
This October, join PDF Association members as we discuss the latest best practices and ideas about leveraging powerful and ubiquitous PDF technology to solve business problems and control costs.
Check out the agenda and sign up for the sessions that interest you today! OctoberPDFest starts soon!
NOTE: Although OctoberPDFest ONLINE presentations are informational and educational, presenters may discuss their solutions following the educational portion of their presentation.