Over 260 attendees from 40+ federal and state agencies

The latest PDF Day event was held on January 29th at the National Archives Building in Washington DC. With a record-breaking number of attendees, the event was a resounding success.
PDF is a broadly-implemented technology, with many distinctive applications across a wide spectrum of industries and workflows. A compact series of sessions, this PDF Day managed to touch on many of the areas of greatest interest to professionals planning and managing electronic document workflows.
Washington DC is a government town, and without a doubt, this PDF Day was aimed at the current concerns of government employees and contractors who manage document workflows. Over 260 people registered for the event, including personnel from 33 federal and 9 state and local agencies, plus a wide range of vendors who handle electronic documents as part of the software and services they provide to government agencies.
Following the start of PDF Day at 0900, the attendees heard from David Ferriero, the Archivist of the United States, before splitting into the two session rooms.
As befits the headquarters of the US National Archives, the Jefferson Room, an upstairs conference room converted into a 70-seat theater for PDF Day, is lined with original documents from the administration of Thomas Jefferson (1801-1809). The irony of discussing the preservation of electronic documents in a room adorned with historical paper documents was noted by more than a few attendees.
PDF Day attendees could choose from 18 educational sessions on topics ranging from accessibility to ZUGFeRD and many others in-between. Subject areas included: archiving, accessibility, Section 508 compliance, workflow, output and PDF in engineering applications. Each group of three educational sessions was followed by a set of three 4-minute "commercial" sessions presented by PDF Day sponsors. The PDF Association recorded each presentation, and will soon make these videos available publicly.
The National Archives preserves the original Declaration of Independence, perhaps the most significant of the founding documents of the United States, in a protective enclosure a few steps away from the areas in which we held PDF Day. Your correspondent was one of many who took a moment to peer at this ancient document. Another attendee was observed to note: "Wow, it's really faded. That would never have happened if they'd just used PDF/A!".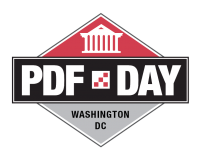 Following PDF Day, most attendees responding to our survey rated the sessions, and the overall event, with a big thumbs-up. We look forward to staging another PDF Day with our friends and new liaison partner organizations; the National Archives and the Library of Congress.