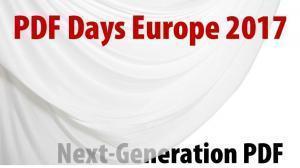 With over 35 informative sessions across a wide range of topics, including the next-generation PDF project, this year's PDF Days event is especially relevant as we look forward into the future of PDF technology.
Next-generation PDF!
Get close to the action!
PDF Days Europe agenda
https://pdfa.org/agenda-of-the-pdf-days-europe-2017/
Post-Conference
https://pdfa.org/post-conference-of-the-pdf-days-europe-2017
Hotel recommendations and sightseeing tips
https://pdfa.org/hotel-recommendations-and-sightseeing-tips-for-pdf-days-europe-2017-in-berlin/
NOTE: "next-generation PDF" is a code-name for extensions to PDF technology currently under development within the PDF Association.