2017 marks a record number of attendees / Experts shared fully-grounded wisdom on PDF standards across the two-day event
Berlin. With over 200 attendees, this year's PDF Days Europe in Berlin was a significant success with the largest attendance of any PDF Days event to-date. The agenda of 35 specialist presentations, user reports and discussions illuminated all aspects of PDF technology. Both the forward-looking presentations on PDF 2.0 and Next-Generation PDF, as well as the practical presentations on current applications of the PDF standard, drew significant interest.
Attendees praised the leading PDF event for its up-to-date information and cutting-edge expertise. Aside from the knowledge transfer from stage to audience, attendees also indicated that they saw great value in the opportunities for networking during breaks and at the evening event.
Forward-looking keynotes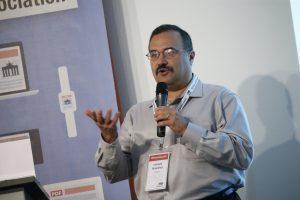 The keynote speeches focused on Next-Generation PDF and PDF 2.0. Leonard Rosenthol, PDF Architect at Adobe, explained that the PDF format first developed by his company 25 years ago now requires new functionality in order to display structured PDF content on all devices – from large-scale wall projectors to smartphones and even smart watches. Over the course of the two-day event, the PDF experts discussed ideas and approaches for enhancing PDF to meet the needs of our increasingly mobile world.
The subject of the keynote presented by Peter Wyatt, one of the project leaders for ISO 32000, was the latest version of the PDF specification: PDF 2.0, the first update to PDF developed exclusively within the responsible ISO Working Group. In comparison with PDF 1.7, PDF 2.0 adds many new features and improvements to interoperability while preserving the technical foundation of PDF. According to Peter Wyatt, PDF 2.0 is ready for publication and can be expected this summer. "PDF 2.0 is an evolution, not a revolution" was his summary. In addition to the keynote, experts demonstrated – among other subjects – the influence that PDF 2.0 will have on PDF/A and the printing industry.
Concrete application scenarios
PDF Days Europe presentations were not only about the future – they also provided food for thought for using and working with PDF today. For example, discussions included the use of PDF/A services as a cloud solution, new options for collaboration, central platforms for standardized conversion to PDF and PDF/A, replacement scanning in line with TR-Resiscan and converting Office documents to PDF/A-2, and using PDF/A-3. The creation of universally accessible documents, and especially PDF/UA the ISO-standardized PDF subset for Universal Accessibility, also received significant attention.
Matt Kuznicki, Chairman of the PDF Association, summarized the event: "PDF is not just a format – it is the world's leading business document solution ecosystem." This year's PDF Days Europe once again proved this in impressive fashion. We look forward to future events to showcase everything we have achieved together with our members."
Video recordings and presentations from PDF Days Europe 2017 are now available.
About the PDF Association
First established as the PDF/A Competence Center in 2006, today, the PDF Association is an international organization promoting awareness and adoption of open standards in digital document applications using PDF technology.
The association facilitates education, networking and communication, and the sharing of expertise and experience with interested parties worldwide. The current membership includes around 140 enterprises and numerous individual subject-matter experts from more than 25 countries.
The management board includes industry leaders from Adobe Systems Inc., callas software GmbH, Datalogics Inc., Dual Lab sprl., Foxit Europe GmbH, intarsys consulting GmbH, levigo solutions GmbH, Nitro Software Inc. and Satz-Rechen-Zentrum (SRZ). The association's chairman is Matt Kuznicki, Chief Technical Officer (CTO) of Datalogics Inc. The deputy chairman is Dietrich von Seggern, Managing Director at callas software GmbH. The Executive Director is Duff Johnson, independent consultant and ISO Project Leader of ISO 32000 and ISO 14289.
Editorial Contacts for North America:
PDF Association
Duff Johnson
Phone: +1.617 283 4226
duff.johnson@pdfa.org
Editorial Contacts for Europe:
Thomas Zellmann
Neue Kantstr. 14
D-14057 Berlin
Phone: +49 30 39 40 50 - 0
Fax: +49 30 39 40 50 - 99
info@pdfa.org
pdfa.org
good news! GmbH
Nicole Körber
Kolberger Str. 36
D-23617 Stockelsdorf
Phone: +49 451 881 99 - 12
Fax: +49 451 881 99 - 29
pdfa@goodnews.de
www.goodnews.de