In today's hectic business landscape, you would think that inefficient software workflows are a thing of the past. Unfortunately, there are still many apps out there that tend to slow our productivity to a crawl for seemingly no reason at all. This extends to the PDF sector as well, where many seemingly capable products frequently fall short of their promises while exacting hefty premiums.
This is where MobiSystems steps in. With its PDF Extra release – version 8.40 – it aims to give users even more control over their documents, without sacrificing the software's fluent and user-friendly workflow in the process. Let's dive right in and see what's new!
New features
OCR conversion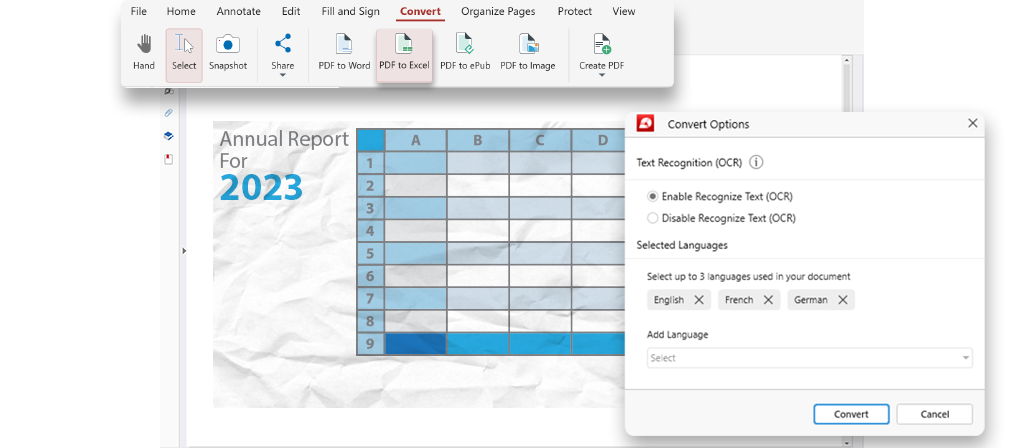 With version 8.40, PDF Extra now features an expanded OCR section in its arsenal of tools. In addition to converting between PDF and DOCX/XLSX, users can now also enable the "Recognize Text (OCR)" technology to convert scanned PDFs into editable tables or Word documents.
Flatten PDF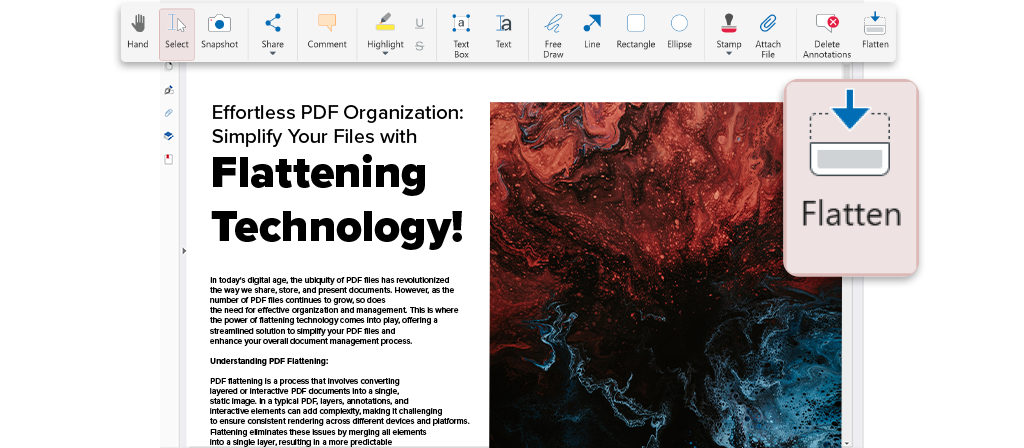 While users could previously restrict their PDF with things like passwords, 256-bit encryption, and custom user permissions, they felt PDF Extra lacked a faster and more straightforward way of doing things. With Flatten, users can now make their forms and annotations non-interactable, preventing others from accidentally changing parts of the document. As a side benefit, flattening a PDF also reduces its size and allows the printing of comments and other annotation elements that are otherwise famously ignored by printers.
Read Mode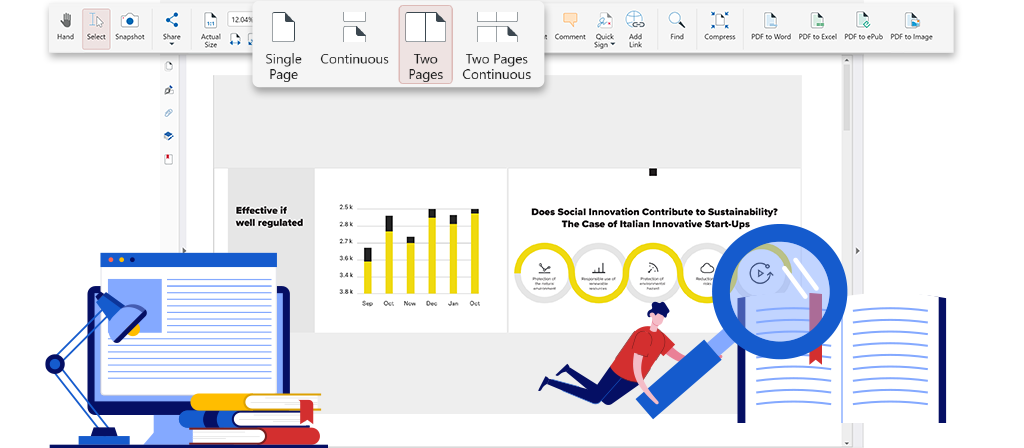 With this mode, users can focus on what's right in front of them by opening their PDFs in fullscreen view, thus hiding all distracting UI elements. It also features an interactive toolbar with intuitive zoom and navigation controls and a few neat extras, such as shortcuts to our page view settings, word & phrase finder, highlight tool, and free draw tool.
Add link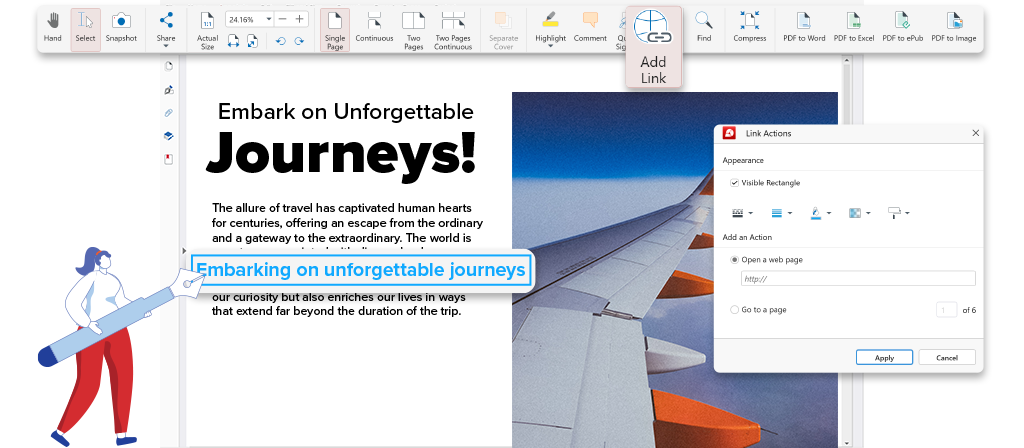 The premise is simple – users can now add clickable links to their PDF content. These links can either lead to a specific website or a page within the file itself. Users can also deeply customize the inserted link's outline, such as its style, thickness, color, and opacity, as well as the highlight style (the type of visual feedback received upon clicking on the link).
DPI compression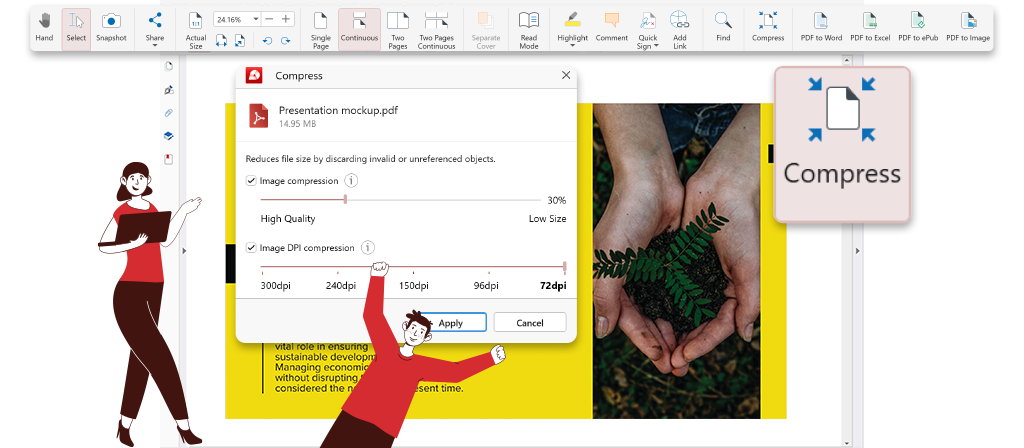 In addition to the existing image compression slider, users can now specify the desired DPI quality of each image, depending on what they plan to do with the PDF. For instance, 300 DPI (the highest slider value) is great for high-resolution printing, while 72 DPI (the lowest slider value) is perfectly fine when the goal is to upload the file to the web. This gives users the ability to find the perfect balance between image quality and desired file size, which was previously difficult to achieve with a single compression slider.
UX/UI improvements
Delete annotations
Before, annotations had to be removed one by one, which was highly inconvenient for users. PDF Extra has since introduced the "Delete Annotations" button which erases all markup elements within the PDF in a single click, regardless if they were created by the original file owner or other users.
Paragraph spacing
Users can now change the paragraph spacing options to custom amounts while editing their documents in addition to things like adding bolds, changing text size, or swapping out fonts.
Other small improvements
Introduced a unified "Save As" dialog
Improved digital signature functionality
Redesigned the app's Home Screen
What's next for PDF Extra?
In the upcoming weeks and months, MobiSystems plans to bring many other exciting features to PDF Extra, such as:
Separate OCR module with greatly extended functionalities
The ability to redact content, create custom stamps and forms
New documents will open as tabs instead of new PDF Extra instances
Rulers, grids, and other measurement tools
Lots of further UX and technical tweaks to ensure better product stability
Supercharge your PDF workflow – try out PDF Extra for free!

MobiSystems is a leading provider of mobile productivity and business applications. Founded in 2001 in San Diego, California, and privately held to this day, the company has over 20 years of experience in the development of intuitive software solutions that work equally well in a plain hotel room as they …
Read more