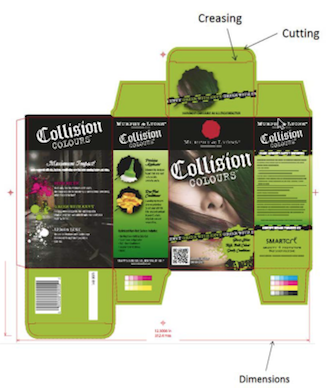 Originally produced by the Ghent Workgroup (GWG), the PDF processing steps specification has now been standardized under ISO auspices as ISO 19593-1:2018 (Use of PDF to associate processing steps and content data — Part 1: Processing steps for packaging and labels).
PDF Processing Steps specifies how standardized post-print workflow elements (e.g. cutting, folding) can be stored in a PDF file, a substantial improvement over today's vendor-specific arrangements.
With ISO 19593, packaging production workflows can be significantly enhanced to include specifications for cutting lines, varnishing, embossing, add braille and more using standardized, language-independent metadata together with PDF's Optional Content Groups (OCGs) feature.
When associated with OCGs, processing steps information allows diverse authors, users or workflow operators to choose specific elements, for example, to verify cut-marks, check colors, or other considerations.
Veteran consultant Stephan Jaeggi says that several software developers have already added features to support the new ISO standard in their products.