---
Print workflow and metadata
Print workflow and metadata standards are used to communicate the intended appearance, processing steps, or job tickets for printed products through the use of existing PDF features.
Processing Steps (ISO 19593)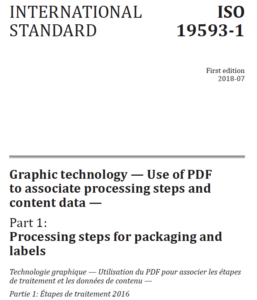 It is common practice in the packaging segment, and other segments of the printing industry, to work with PDF files that contain PDF graphics objects to be used for printing and additional PDF graphics objects and metadata to be used for other steps in the production of the final product. These non-printing PDF objects and metadata correspond to additional processing steps, for example die cutting, creasing, clear varnishing, white underprint, areas for gluing, Braille, etc. This data must be encoded in PDF in a commonly agreed manner so that it may be excluded during printing and only applied during the correct processing step. In this way a PDF file can serve as a interoperable container for all production data, printing and non-printing, of a printed product, such as a package or a label.
ISO 19593 standardizes the use of PDF layers (technically the PDF optional content group (OCG) feature) for communicating a wide variety of processing steps applicable to the packaging industry.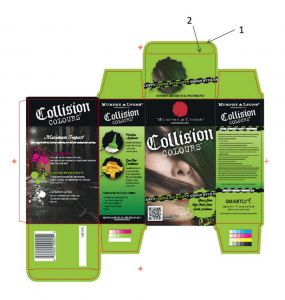 Print Product Metadata (ISO 21812)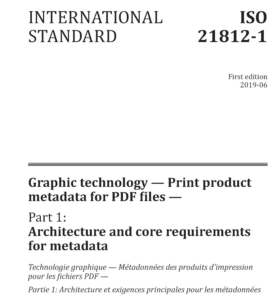 PDF files represent content pages and do not normally contain information identifying the usage of these content pages in print production. Document part metadata (DPM) is a simple mechanism that allows for the exchange of information regarding a set of content pages to aid the receiver of the PDF files in determining the intended use of those content pages in the final print product. By understanding the intended use of content pages, the receiver of the PDF file can make more informed decisions regarding the production process for the final print product. The structure of the metadata is intended to encapsulate sufficient information in a PDF file to guide the production of printed products without the creator needing to know the details of the production processes that will be used.
ISO 21812 accomplishes this through standardizing the DPM metadata that can be provided by a document creator. This document uses the DPart syntax as defined in PDF/VT and ISO 32000-2 (PDF 2.0). It has a close relationship with CIP4 XJDF Release 2.0.
XMP Metadata for image and document proofing (ISO 19445)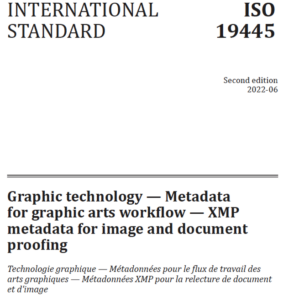 ISO 19445 specifies the set of XMP metadata to be used to communicate the approval status, proof preparation and viewing parameters for images and documents that are used in the graphic arts print production workflow.
The standard is based on the soft-proofing ticket defined by the Ghent PDF Workgroup. It extends the ticket to include metadata required for the image preparation stage of the workflow. The intent of this metadata is to track approvals, proof preparation, and viewing conditions during the approval. To achieve this, the approver is identified along with the document's output conditions, the software used for the approval and various details of the device's configuration.
Buy from ISO