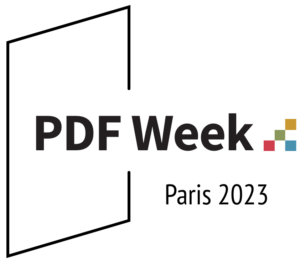 PDF Week Paris 2023 will launch an all-new type of in-person meeting for PDF Association members, observers and technology stakeholders.
As a technical conference, PDF Week is designed to foster the PDF ecosystem with extended in-person Technical and Liaison Working Group meetings and the opportunity to observe and participate in the ISO working group meetings governing PDF technology.
PDF Week is therefore a unique opportunity to meet and network with your colleagues in the PDF space. It's where the PDF people meet and where the future of PDF technology is fashioned and decided.
PDF Week in 2023 will be very special as it's the year we celebrate 30 years of PDF!
PDF Week is not just for members. If you develop PDF technology, or if you manage PDF products, or if PDF at a technical level is interesting to your organization, then join us May 2-5 in Paris.
Registration for PDF Week is now open. Space is quite limited, so check out the agenda and be sure to reserve your spot!
Agenda
Registration