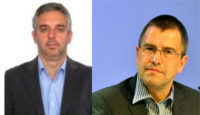 Boris Doubrov and Martin Wrigley from the veraPDF Consortium will be hosting a presentation titled"veraPDF: after PREFORMA" at the PDF Days Europe 2018.
Presenters
Boris Doubrov is CEO of Dual Lab, the company specializing in product development services in the areas of Computer Graphics, CAD/CAM Modeling and other Science-intensive areas. Boris Doubrov holds a PhD in Mathematics and has been working for more than 15 years in PDF technologies as a software developer, project manager, and business owner. He is an active participant of the ISO activity on PDF standards development and led technical development of veraPDF, an open source industry supported PDF/A validation tool.
Martin Wrigley, Executive Director, Open Preservation Foundation, is responsible for working with members of the Open Preservation Foundation (OPF) and the Board to develop the future strategy and enhance the Foundation's portfolio of open source digital preservation tools. He has over 30 years experience of working in the software industry, including software development, mobile telecoms and phone apps. He is also the Executive Director of the not-for-profit Application Quality Alliance focusing on mobile app quality and testing standards. Martin was Director of Developer Services at Orange Partner, for 8 years, working with industry partners, app shops and mobile app developers providing strategic and tactical direction and support to the Orange developer community. Prior to that, Martin had more than twelve years in a variety of technical roles in Orange.
Session Description
What's next for the industry-supported veraPDF validator? This session discusses the impact of the veraPDF project in various areas of the PDF Industry, reviews how members of PDF Association see the future if the product and outlines further short- and long-term plans.
Check out the detailed programme: https://pdfa.org/pdf-days-europe-2018-schedule-of-sessions/
Direct link for registration: https://en.xing-events.com/pdf-days-europe-2018.html