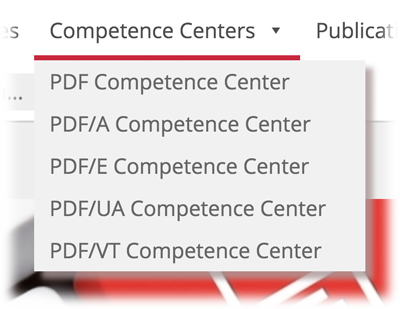 The PDF Association started in 2006 as the "PDF/A Competence Center". The mission was to identify - and thereby establish - a common interpretation of the PDF/A-1 specification. With that accomplished through meetings open to all members, the secondary objective was to help drive that understanding to the people who would be most interested in the results: PDF software developers around the world.
It worked. A common perspective on PDF/A-1b was quickly adopted by industry leaders, and then implemented worldwide, with few exceptions.
The PDF Association has moved on since the days in which it focussed on PDF/A. There are now Competence Centers for PDF itself and each of the major PDF subsets. Today, most of the work is concentrated in so-called "Technical Working Groups (TWG)". So, what's a "TWG" versus a "Competence Center" anyhow?
TWGs and Competence Centers
Each Competence Center consists of one or more subgroups. Typically, the Technical Working Group addresses the specification itself, or interpretations and applications thereof. When present, a Marketing Working Group (MWG) tends to focus on how the PDF subset is presented to the world at large, especially end-users.
There may also be one or more Special Interest Groups (SIG) within any given Competence Center; these organizations are dedicated to specific functional, technical, marketplace or other areas of interest.
Access to these groups is for PDF Association members only, and is one of the principle benefits of membership.
We encourage all PDF developers to consider joining the PDF Association and participating in these activities! PDF is only worthwhile when it's fully interoperable, and the Competence Centers are here to help maximize that outcome.