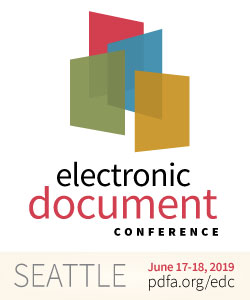 The PDF Association, the meeting place of the PDF industry, decided to create the Electronic Document Conference for a simple reason.
PDF's relationship with other document-related technologies is expanding. Even in a world that runs on HTML, CSS and JavaScript, the need for a portable, reliable, self-contained document continues to grow. 
Why?
It's not simply that, excepting raster images and ASCII text, PDF is just about the lowest common denominator for conveying electronic content.
It's not simply that PDF is portable, reliable and self-contained.
It's not simply that PDF meets an extraordinarily diverse range of requirements with such an extremely high degree of interoperability, capability and longevity.
It's not simply that PDF is a universally-accepted worldwide de facto standard for electronic communications (Wikipedia's entry for de facto standard references HTML and PDF as examples of the concept).
It's not simply that PDF is non-proprietary ISO standardized technology. 
→ It is all of these things at the same time. ←
PDF technology is everywhere, with trillions in existence and hundreds of millions or billions more every day. Although old-school paper and page-based business processes are increasingly overtaken by marked-up text, CSS, databases, JSON, etc., etc., PDF's mind share still continues to grow.

What's in it for non-PDF people?
From the end user perspective, PDF really is one of the world's critical file formats. Users don't care about CSS, or whether a browser's running WebKit or Blink! Change the stack and few will notice.
But they DO care about PDF.
If you work with documents - whether your products and technologies serve, layout, create, display, capture, process, edit, augment, annotate, sign, stamp, print or twirl 3D content - or even if PDF technology is not an immediate point-of-contact - PDF's footprint in the world of electronic documents cannot be ignored.
But it can be leveraged.
For those who develop or manage electronic document technology in some way that intersects with PDF at any point, you owe it to yourself to scan the session titles.
From AI to ZUGFeRD, we've brought together a diverse - even eclectic - set of topics and speakers, all animated by the subject of electronic documents.
5 reasons not to miss this event
Meet the experts: It's where you'll find the world's top experts in the world's most popular electronic document file format
Find solutions: It's where you'll find the latest-generation PDF tools and technologies
Stay out in front: It's where cutting-edge advances in electronic document technology will be unveiled
Get some perspective: It's where you'll sample from a deep and wide range of ideas and views on the core concepts of electronic documents and their use
Go in depth: It's where you can get in-depth with our Gold sponsors via dedicated seminar sessions
It's about "the document"
Whether you develop applications, manage information technology, juggle 3D graphics, create workflow solutions or publish content, this event is designed to expand your horizons.
Produced by the PDF Association, the non-profit industry group promoting ISO-standardized PDF technology, the Electronic Document Conference is chaired by Duff Johnson, ISO Project Leader for ISO 32000 (the PDF specification) and ISO 14289 (the ISO specification for accessible PDF).
The PDF Association has produced numerous well-received "PDF Days" and "PDF Technical Conference" events in the US, Germany, the UK, Australia and elsewhere since 2006.
It's driven by the community
The sessions feature a range of approaches, from overviews to in-depth discussions. You'll get even more from one-on-one conversations with the speakers and colleagues, including after-hours during the evening dinner cruise! These events bring you together with other professionals facing similar challenges.
PDF Association events bring together leading experts in document design, management, customer communications, imaging, engineering, color science, publishing and archiving, along with many other disciplines. PDF's cornerstone is interoperability, and our events are designed to showcase the scope and diversity of electronic document technologies leveraging the Portable Document Format.
Attendees
Our attendees are technical product managers, software developers, workflow designers, engineers, publishers and others with a professional interest in the business, practice and technology of electronic documents.
Why Seattle?
The companies and open source developers who create and maintain the tools, products and services that support electronic document infrastructure throughout the global economy are well-distributed, but Seattle has more than most!
For this year the Electronic Document Conference is partnered with CreativePro Week, happening June 10-14, also in Seattle! Registered EDC attendees can get a $100 discount on their CreativePro Week registration!
Learn more about the EDC, and consider signing up now. Capacity is only 200, so don't delay!