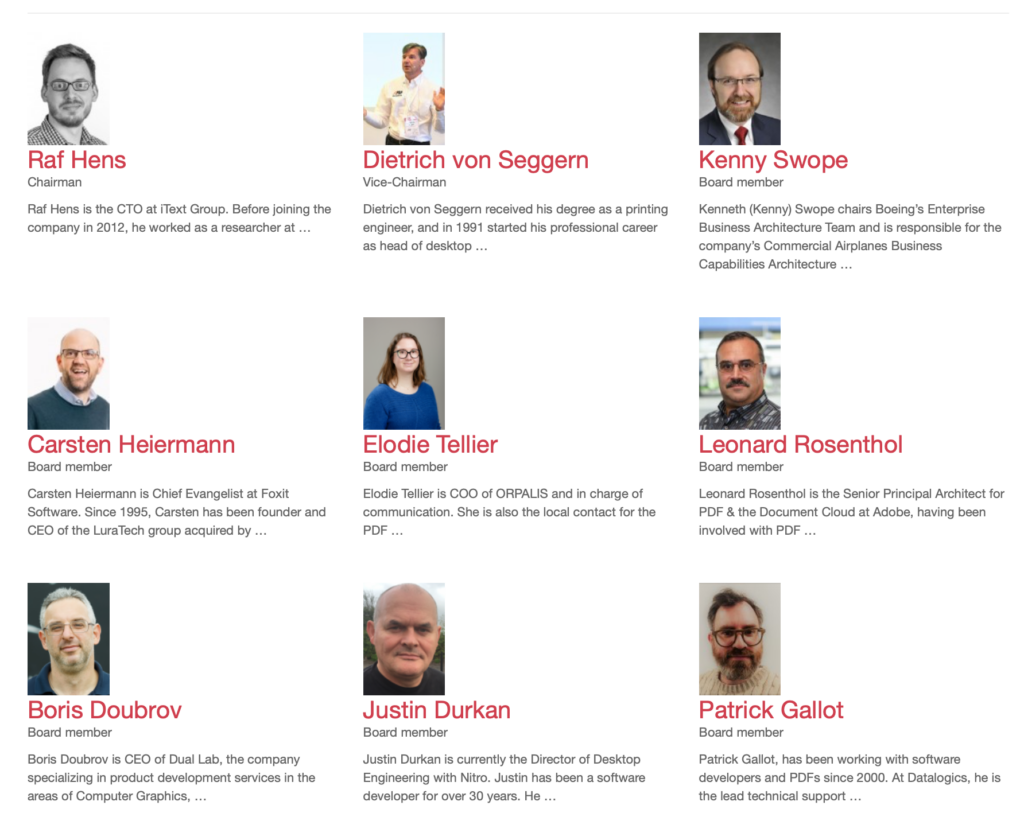 Following PDF Days Europe, the PDF Association's annual All-Member Meeting met in Berlin on September 13, 2022 to hear the financial report for 2021 and to elect a new Board of Directors for 2022-2024.
The new nine-member Board is chaired by iText CTO Raf Hens. Dietrich von Seggern of callas software will continue as Vice Chair. The new Board adds Kenny Swope of Boeing.
The members thanked retiring chair Matt Kuznicki, who led the Board for the last six years, and retiring members Bernd Wild, Catherine Andersz and François Fernandes for their contributions.
"The Board of Directors anticipates an exciting and dynamic period for the PDF community," said new chair Raf Hens. "We will be working to deepen the organization's commitment to documenting and enhancing PDF technology through specifications, ISO standards development and the expansion of technical resources for our members and the PDF technology ecosystem," he said.
Organizations and individuals interested in exploring the benefits of membership should write to info@pdfa.org.
About the PDF Association
First established as the PDF/A Competence Center in 2006 the PDF Association today is an international specifications and standards development organization promoting awareness and adoption of open standards in digital document applications using PDF technology. The association facilitates education, networking and the sharing of expertise and experience with interested parties worldwide. The current membership includes over 150 organizations and numerous individual subject-matter experts from more than 35 countries. PDF Association, Inc, a US-based subsidiary, administers the standards development program and US Technical Advisory Group (TAG) for ISO TC 171 SC 2.
The management board includes industry leaders from Adobe, Boeing, callas software, Datalogics, Dual Lab, Foxit, iText, Nitro and Orpalis. The PDF Association's Board of Directors is chaired by iText's Raf Hens. The Chief Executive Officer is Duff Johnson, ISO Project Leader of ISO 32000 and ISO 14289.