Transformations, Inc.
Ex-Member
Headquartered in USA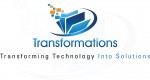 Transformations, Inc., based in Franklin, Tennessee, is a software solutions company and developer of Uluro. Uluro is an award-winning, comprehensive front-to-finish Customer Communications Management (CCM) platform for securely creating, producing, delivering and tracking critical customer communications. Uluro's mission is to provide the most secure delivery solution available and provide customers a significant competitive advantage that can help them grow their businesses and increase their market share. For more information visit: www.uluro.com and LinkedIn.