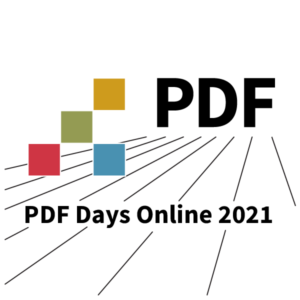 If you are a heavy user of PDF technology, develop with PDF, or build PDF applications into your products and services, the educational / non-commercial Technical Days and Solution Days sessions of PDF Days Online 2021 are a great place to find inspiration and expertise. Check out the agenda for PDF Days Online 2021!
Technical Days: 24 non-commercial / educational sessions offered by experts in PDF technology.
Solution Days sessions 14 short presentations offered by leading PDF technology companies to highlight a product or feature.
Can't make the times? Register anyway; we'll send you a recording of the presentation the next day!
Interviews with PDF Days speakers
We've been publishing short interviews with each of the speakers as a means of previewing their Technical Days sessions. The interviews published so far are:
PDF Days Online 2021 sponsors
Gold sponsors
Silver sponsors